The caves are located in the lap of the mountains, Ajanta-Ellora caves! Both these caves are the finest specimen of the architecture of ancient Indian civilization.
The world-famous Ajanta-Ellora caves are located in the Aurangabad district of Maharashtra. The two caves are about 100 km from each other, but they are always kept together due to their aesthetics and importance. There are 30 caves in Ajanta and 34 caves in Ellora. Hindu, Buddhist, and Jain cave temples are built in it as well.
It is considered one of the finest specimens of architecture of ancient Indian civilization. These caves have beautiful rock-cut and beautiful paintings of ancient Indian workmanship, architecture, and exquisite sculptures of carvings.
Religious sculptures give a live demonstration of ancient Indian civilization. These caves have been declared a World Heritage Center, and are under the supervision of the Archaeological Survey of India Department. Ajanta-Ellora caves are also a major tourist attraction.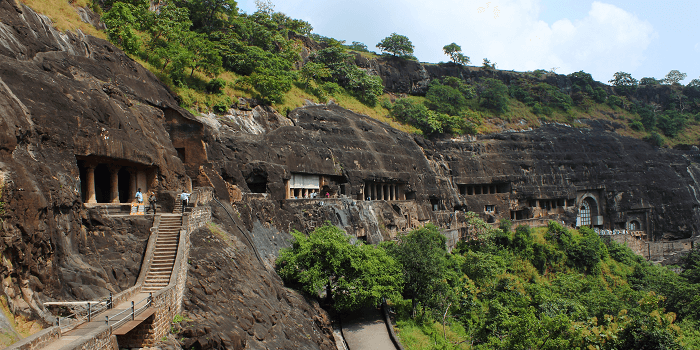 Ajanta Caves – Located 101 km from Aurangabad in a village called Ajanta, hence these caves are named after Ajanta (Based on village name).
These caves have been constructed in a series of 30 caves, which are cut into the shape of a horseshoe by cutting mountains. The Waghora River flows in front of the caves of Ajanta. In 1819, army officer John Smith discovered that these caves were built between 200 BCE and 200 BCE.
It was built with the help of a hammer and chisel and these caves can be divided into two parts easily. The first phase is a glimpse of the Hinayana of Buddhism and the second phase the Mahayana sect.
These caves have statues and paintings of Buddhist monks, which are depicted as Buddhist monasteries. The past births of Lord Buddha are also described in these caves. These sculpted sculptures display very ancient and historical significance there.
These caves were used by Buddhist monks to pray and live. Historians see it as a symbol of Lord Buddha. Tourists will get a glimpse of Lord Buddha's life, religious teachings, and stories of ancient Indian civilization here.
Ellora Caves – Ellora Caves are a series of 34 caves that are spread over an area of ​​2 kilometers along the banks of the basaltic hills.
These caves were built in the 5th and 10th centuries by the rulers of the Rashtrakuta dynasty. Ellora caves are the best example of the architecture of the Indian Stone Age.
There are 12 Buddhist caves, 17 Hindu caves, and 5 Jain caves, indicating the confluence of faith towards the three religions. The painting and sculpture of these caves are not unique, but also it is a glimpse of ancient times.
Most of the structures here have viharas and monasteries. If you are also fond of traveling, then Ajanta-Ellora caves are a good tourist destination for you. A glimpse of these caves is enough to enchant you. These caves are an archaeological center, Ellora is a World Heritage Site declared by UNESCO.