Sarah Bartman or Sarah Bartman is the most unlucky woman in the world, even after her death, people have not stopped from humiliating her. No woman anywhere else in the whole world has been insulted as much as Sarah Bartman and it was like a joke on humanity.
By now you must have read and heard about different types of women, stories about women's beauty, bravery, etc. But do you know about the most unlucky woman in the world?
Sarah Burtman or Sarah Bartman, whatever you want to call her, doesn't matter because the main point is that Sarah Bartman was the most unlucky woman in the world. Sarah was born in the year 1789 in Eastern Cape, South Africa. Sara was only 2 when her mother died and 2 years after the mother's death her father also died when she was 4 years old.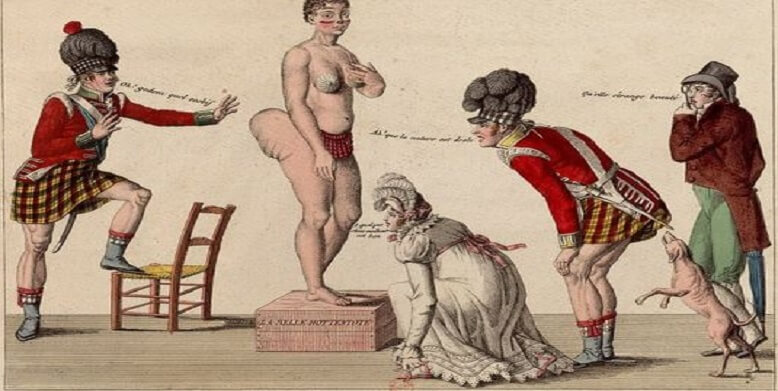 After losing her father she was all alone and there was no one to look after her. Sarah Baartman had a very weird Body Structure. With time when she was growing up, her buttocks were getting bigger and bigger as compared to her body and local people started making fun of her unformed body.
At that time Africa was enslaved by Britishers and Africa was a British colony and that is why Britishers used to travel actively to Africa.
A British businessman named William Dunlop also used to visit that place in Africa. So, William Dunlop thought to take Sarah Baartman to London and make her perform in the Circus and earn money out of it because at that time circus shows were organized and were quite famous in entire Europe for entertainment purposes. William wanted to show Sarah's weird and unformed body in the circus and earn money out of it which is why he took Sarah to London.
In London, a show was organized in Piccadilly Circus and within no time the show became a hit and people used to buy tickets to see her weirdly formed body and wealthy people used to organize her show at their house and their guests were allowed to touch her. 
People used to make fun of her and a lot of newspapers used her funny cartoon to mock her and made fun of her weird body structure. Due to racism and the color of her skin, she was seen as a matter of joke in Britain as well.
British Empire brought an end to the business of their slaves in 1807 and at that time her owner sold her to a circus man of France who used to organize the same kinds of circus shows and he also used Sarah Baartman for the same purpose to present her body the same way as before.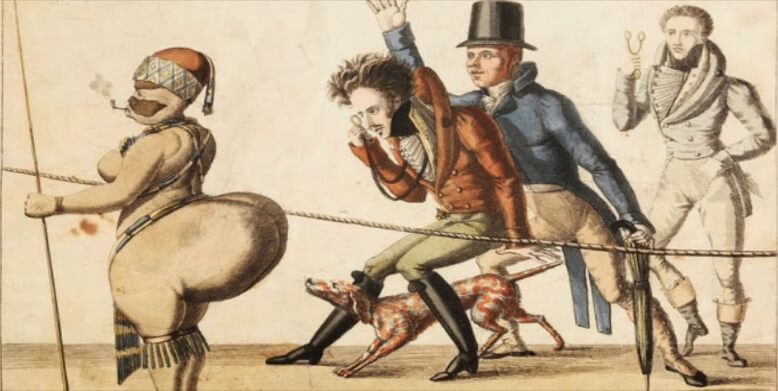 In Paris, at the age of 26, she died while performing during an ongoing show. But, she was so unfortunate that when she died the show did not stop and it went on and on after her death whatever happened to her is a big shame on humanity. 
Even after her death people of France kept on making fun of her and no woman in the world has gone through such harsh humiliation till now in the whole world and not only this France people made a plaster cast of her body after her death and kept it for presentation in future events.
That is why Sarah Baartman is known as the world's most unlucky woman. In 1994, South Africa's president Nelson Mandela formally requested the French government to give them the remains of Sarah Baartman. Nelson Mandela put in a lot of effort for a long time so that he can bid her a respectful last farewell and because of his hard work and efforts France gave all the remains of Sarah Baartman to South Africa in 2002.
In 2002, after almost 192 years all the remains of Sarah Baartman were brought to South Africa and with all due respect, she was buried at the place of her birth in eastern cape.
Today Sarah Baartman comes under the list of South Africa's one of the most popular women. Hollywood has made and given many hit movies on her. Black Women and The Life and Time of Sarah named movies are super hits. 
A ship in South Africa has been named after her and on 8 December 2018 Cape Town University changed the name of their memorial Hall to Sarah Baartman and finally, after 192 years, Sarah Baartman got rid of her Misfortune.